What are the latest social media statistics that show which platform is ruling the roost?
With digital marketing reaching an all new level today, marketing across the social media platforms is something that cannot be ignored. It is one of the most profitable yet hassle-free ways of digital marketing. You can turn to social media statistics to enhance your business or website visibility.
Over 91% of the marketers claim that their marketing efforts across social media heightened their user experience and increased brand visibility. All this just by spending a few hours a week! Social media statistics are making social media an important aspect of digital marketing. Today, we will see social media statistics and understand what makes them so important. We have compiled a few of the recent social media statistics on consumer adoption as well as usage.
Today, social media networks are very well established. Due to this, we are able to point out the top 5 social media networks. Mind you, these do not change much year after year. However, in this social media statistics, we will be seeing that some of the popular social sites hugely vary in terms of the usage level across various countries and demographics. Understanding such differences particularly in the popularity of various different social media networks is necessary while targeting a specific audience. Also, social media statistics show that while some social media networks grow rapidly, the others do not.
When you plan to compare the best/popular social networks, it would be ideal to evaluate the number of accounts that are active rather than measuring only the exact number of user accounts.
Social Media Statistics – 2018
Here, we will be referring to the updated social media statistics for the year 2018, which includes the new social media statistics data that represents the penetration of the social media channels in The US.
Before that, we have made an attempt to answer some of the important questions for the marketers. These queries are worth considering before the marketers plan to invest their valuable time in social media marketing. We have provided the latest possible data to help you understand the social media statistics better.
How Popular is Social Media Globally?
Every year "We Are Social" regularly updates their huge worldwide compendium of social media statistics. This gives some really good insights into the social media world. The social media statistics reports are particularly interesting, as it shows how far some nations diverge when it comes to the usage of social media.
Surprisingly, Western Nations are the ones that are lagging behind in the adoption rates. According to the Global Digital Report – 2018, the following social media statistics were found:
Total number of the internet users worldwide is found to be 4.021 billion in 2018 – which accounts for 7% increase year on year.

Then the total number of users across social media platforms worldwide is 3.196 billion in 2018 – which accounts for 13% increase year on year.

The total number of mobile platform users in 2018 is 5.135 billion in 2018 – which accounts for 4% increase year on year.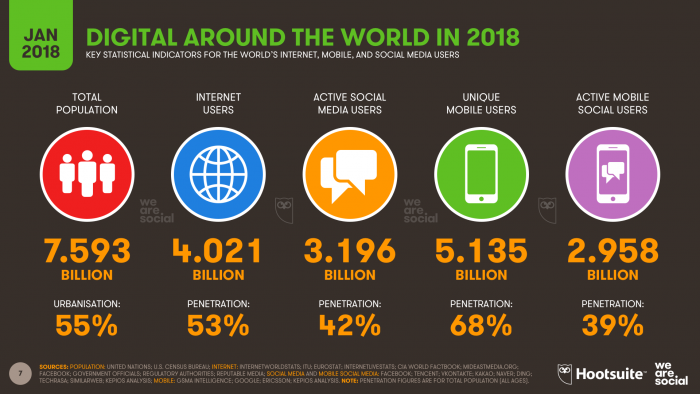 Now, annual growth is continuing at a steady pace, particularly mobile social users who are active – 39% penetration, with an increase of 5% in 2017. The web traffic share by device remains high for mobile platforms at 52%, while desktop's web traffic share by device remains at the second place – mere 43% and is gradually reducing by 3%.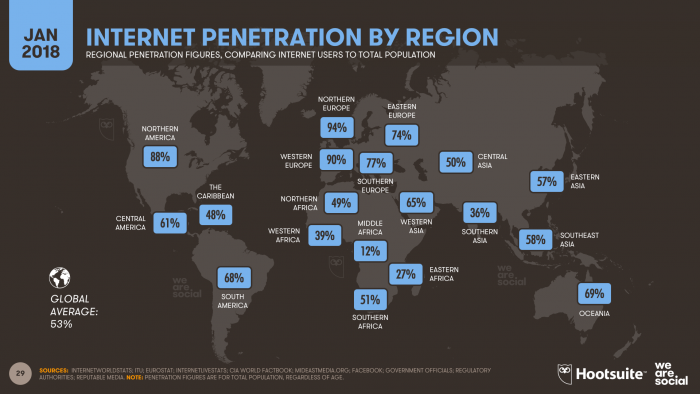 Western, Northern and South Europe, as well as North America, show maximum internet penetration, somewhere between 74% to 94% active internet users when compared to the overall population.

Worldwide usage of social media since Jan 2017 is 13%.
However, Saudi Arabia shows the maximum year on year increases by 32%, with a 17% upsurge when compared to the worldwide average. Other nations that show maximum social media usage include Ghana, India, and Indonesia. This can be mainly attributed to continuously improving technology making it easy to access social media. However, South Korea, UK, and UAE seem to have the slowest rise, below 5%.
While Facebook stats shows the maximum number of active users daily when compared to other social media channels, it is essential to understand how your content might perform and which features can be used to optimize the content reach. As per the social media statistics, while the average post like vs post reach is 10.7%, average total reach vs paid post reach is 26.8%.
Social media statistics also highlight the fact that Facebook is a wonderful platform that is great for both paid as well as organic opportunities offering enormous potential reach. However, do not forget to target the content to specific business persona to get high-quality leads.
Which Social Media Networks are the Most Popular?
The comScore Panel's latest insight, social media statistics, as inferred from their latest Focus on Global Digital Future – 2018 showcases comparison between different social networks based on popularity.
Refer the image below:
As you can see, the social media statistics show that Facebook is dominating, which implies that after all the negative hype against Facebook, this is one media platform that has remained as a major audience channel for most of the time.
Next, social media statistics uphold the fact that UK's Instagram accounts make for 10% of the total social media stats worldwide.  So, it is time for you to step up and start exploring the new Instagram techniques. Apart from these, we predominantly have platforms favored by APAC, where Qzone, QQ, and WeChat all have over 600 million active users. Also, there is a cluster of western social networks in Twitter, Tumblr, and Instagram.
Which Social Media Networks Are Growing Rapidly?
Social media research shows that when it comes to social media marketing, social media statistics show us that time is the major constraint that most of the marketers face. So, one best way, to begin with, would be to evaluate and identify which is the social media platform that is growing rapidly before investing in it. This helps you to streamline your efforts towards the right social media platform.
Consider the image below:
The above comparison shows the monthly increases in active users indicates that the Facebook is declining across some demographics, Instagram and Snapchat are still rapidly growing.
How Do Social Media Users Respond to Brands Across Social Media?
Knowing how to post or behave across the social media is also very essential.  This reflects your brand personality and hence influences the social users to either unfollow or buy. Today, social media statistics show that social media platforms are hugely being leveraged to provide customer services, where potential customers and customers are provided with quick and real-time answers.
51% of the social media users said that they would instantly unfollow if the brand posted irritating posts, while 27% stated that they would report or mark the brand as spam ending up blocking them during such instances.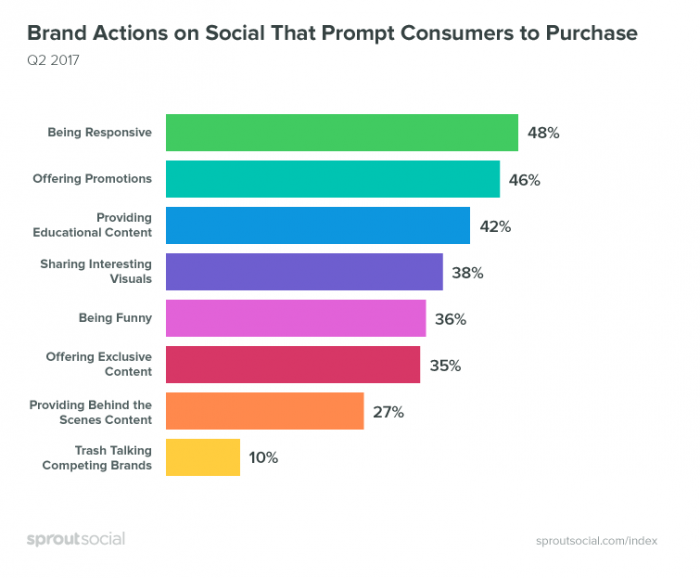 This makes it important for the marketers to post interesting and relevant content that helps your social users and target audience to relate to, thereby helping you to expand your reach and retain engagement.
Which Social Network is the Most Engaging?
Another factor that decides whether it is worth investing your time in social media marketing is the user engagement of your target audience. Once again social media statistics show that Facebook reigns here, boasting the maximum user engagement within a short span of time.
Refer the chart below from comScore below: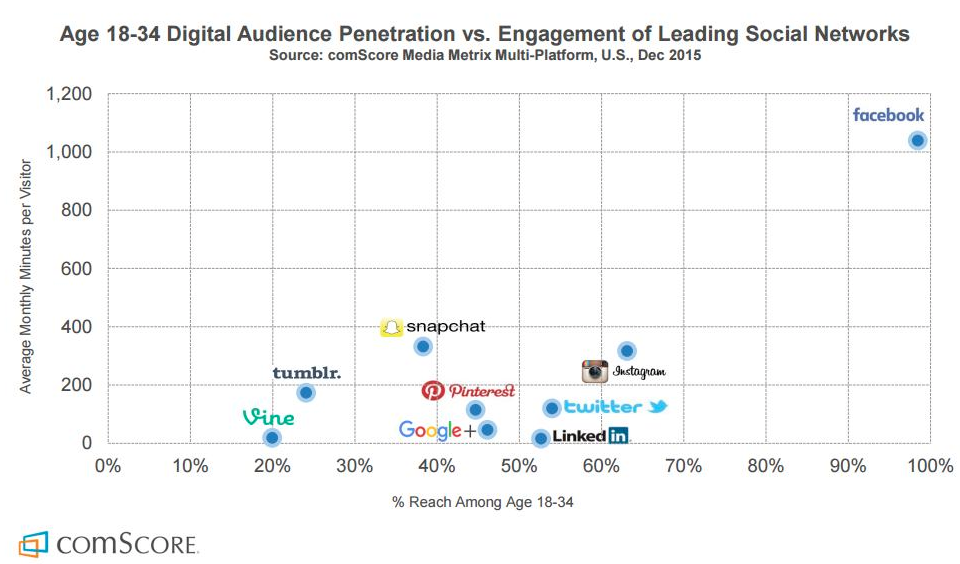 Here, the social media statistics chart reflects engagement that is the reach among millennial demographics versus the time spent on social media platforms. Surprisingly, while Facebook dominates, Instagram and Snapchat are doing well in terms of visitor usage per month. The dominance of Facebook is truly extraordinary. It is not only at the top spot, other platforms of Facebook also rank for the second and third positions for penetration and engagement. While Facebook messenger boasts of a whopping 47% penetration, Instagram, which is again owned by the Facebook, secures the second place in terms of engagement.
Let us now consider the chart below:
This is a recent chart developed by Pew Internet. It shows that the active use of Facebook for the day-to-day basis is on the lead. While 76% of the users login everyday, 51% do the same for Instagram. Social media statistics also show that the Twitter just manages to secure 42%, which is just above half of the Facebook.

What Are The Various Social Media Interaction Rates?
TrackMaven evaluated 51 million posts from a whopping 40,000 companies across 130 industries. The analysis was mainly carried out to determine the social networks that receive maximum engagement per follower. The resulting social media statistics upheld the dominance of Instagram, in terms of interactions for 1000 followers.  In fact, this number is much more than the other social media channels. While Instagram dominates, when it comes to other social media networks Facebook has a lead over LinkedIn and Twitter.
One reason that makes people post on Twitter is that it does not have any algorithm, which serves post to a smaller audience. This set up makes Twitter a fire hose of content. Here, businesses will have to share very often to be heard across the noise. All this has resulted in much lower engagement per content/post.
Social Media Adoption by the US
Pew Research Center – the consumer technology adoption specialist in the US – came up with a new social media statistics data on the social media adoption in the US.
The data showed that there was a meteoric rise over the past 10 years.
About 10 years ago, only 7% of the overall US population was constantly using one or more of the social media networking sites. Today, it is almost 10 fold higher and has reached 65%. Out of those who regularly use the Internet, a whopping 76% of the American's are known to use social media. While social media has rapidly grown, its growth has now begun to plateau. Surprisingly, users who are over 65 years of age are the ones who are driving the growth. However, the social media usage by the 50 to 64 years cohort has not seen any growth since 2013.
The Popularity of the Social Network by Country
The following is a good visualization of how popular each of the social media networks is based on the GWI report another set of social media statistics data. Try picking out your country, it might be way behind the nations where the following core social media networks are highly popular.
Mexico, Philippines, India, Brazil, and Indonesia are the ones that are at the top for each of these social media channels. These nations use the social media channels at higher levels when compared to the UK, US, and other European countries.
How Do Different Demographics Use Social Media?
The chart below is way too similar to the age group chart – similar to the way in which how every age group actively use social media platforms. Today, social media networks are at a stage of maturity.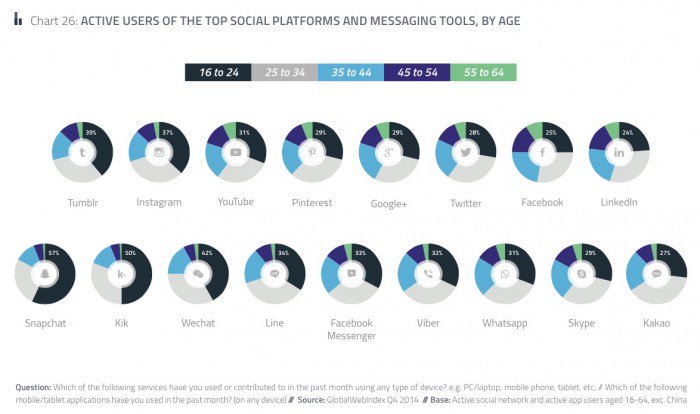 They provide opportunities for every age and gender group to reach out to them. However, Tumblr and Instagram are slightly different, as they are popular only among the younger age groups.
Summing Up
Still thinking why do people use social media? Considering the stats above, there is no way you can overlook marketing across social media. With the growing number of people engaging themselves across the social media channels, it is important for you to get heard across these platforms.
Please leave share your thoughts in the comments section below.